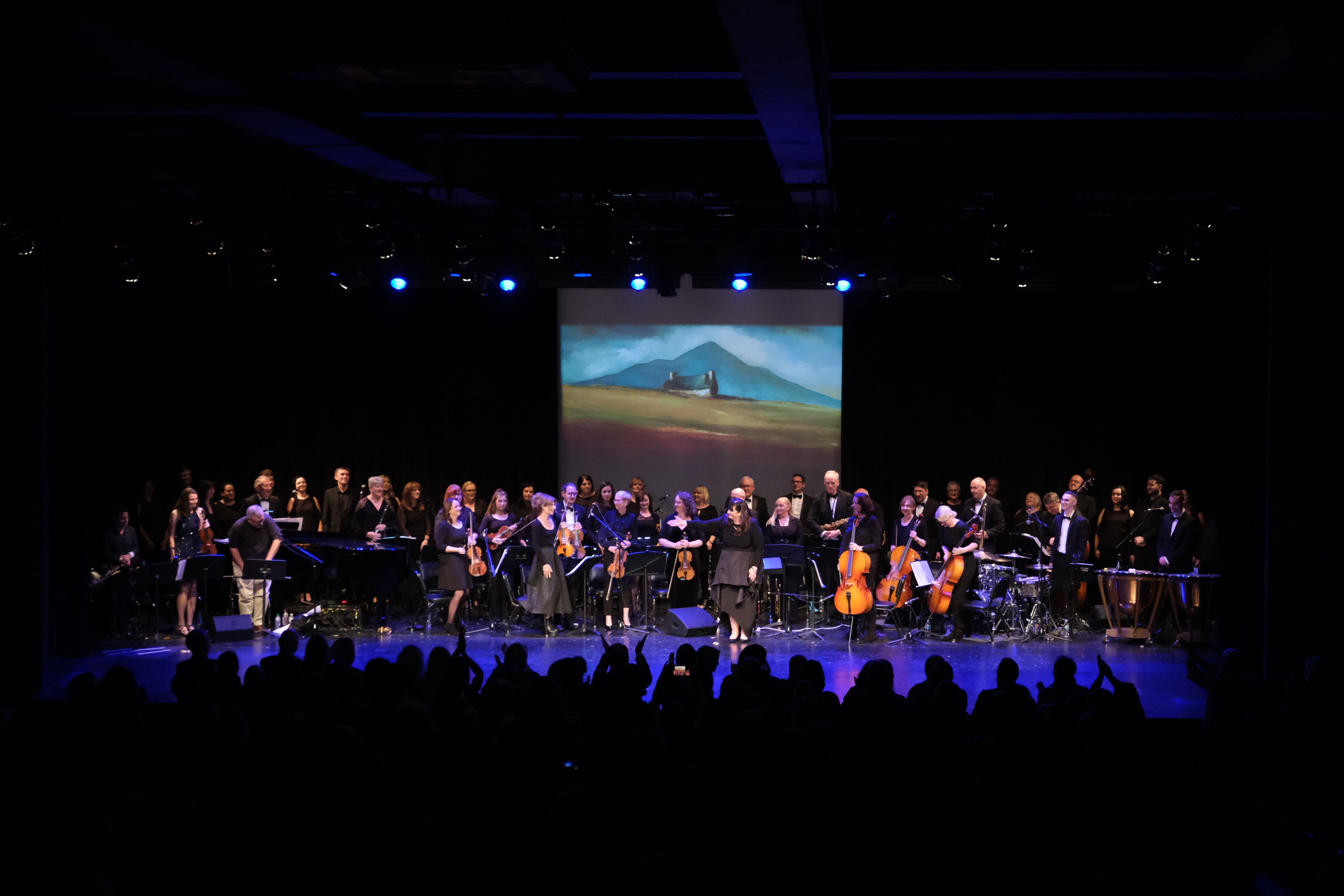 Mayo Concert Orchestra
Mayo Concert Orchestra (MCO) is a busy working community orchestra led by Musical Director, Kathy Fahey, who is also composer of 'Fainne Oir'. The orchestra performs an annual calendar of public and charity/fundraising/tribute concerts to mark special occasions and events throughout the year.
2019 is another busy year with the 30-strong orchestra busy in rehearsals for the world and US premieres of 'Fáinne Óir' in Castlebar and New York. This follows a hectic 2018 during which MCO performed in events as diverse as a shared concert with a visiting USA college orchestra, classical Vivaldi and Handel's Messiah concerts in Castlebar church and a sell-out live Symphonic Dance evening playing electronic pop tunes at Claremorris Town Hall.
Since December 2018 MCO has been touring with International Irish folk singer, Sean Keane and later this year will support him at his biggest concert later this year at the 2,000 seat INEC concert venue in Killarney.
Musical Director, Kathy Fahey is excited about the orchestra and its potential: "People are amazed with the diversity of the orchestra's output – there is something for everyone. Members travel from all over the province just to be at our weekly rehearsal across the various instrument sections of Strings, Percussion, Brass and Wind and we are very proud that Mayo has such wonderful musicians, members of the Mayo Concert Orchestra and working together to produce beautiful music for all to enjoy."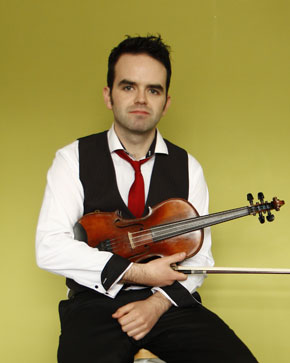 David Doocey
Born in Worcester, Massachusetts now living in Foxford, County Mayo,David is at the forefront of his generation of musicians. He has won several awards including All-Ireland medals on both fiddle and concertina and the first ever World Fleadh fiddle championship in 2005. He has also won the much coveted Feile Oriel trophy, an award previously held by Tommy Peoples.
His music can be heard on many recordings and has recorded in Nashville with Grammy award winners Tim O'Brien and Allison Brown. In the last number of years he has performed in many prestigious venues including Vicar Street, Dublin, The Olympia in Paris, The Station Inn in Nashville, The House of Commons in London and the Toyko Opera City Hall. He has performed and collaborated with many artists such as Michael McGoldrick, Tim O'Brien, Lunasa, Roesy, Martin Hayes, Sharon Shannon, Dervish, Dougie MacLean, Dermot Byrne, Emmylou Harris, Joan Baez, Buddy Miller, Steve Earle and Robert Plant. He has several Irish and international television and radio appearances to his credit including 'Geantraí', B.B.C's Blas Ceoil, RTE's Fleadh Cheoil programme, and is featured on Des Bishop's live d.v.d "desfunctional" which was filmed at the Roisín Dubh in Galway.He is also featured on Sean Keane's new live dvd. He has toured throughout Asia, Europe, America, Australia and New Zealand. David also teaches and can be found at the annual Willie Clancy Summer School in Milltown Malbay every year in County Clare. He has toured with the international dance shows Ragús and Irish Legends. He is a member of the band Gráda and plays with the Dave Munnelly Band, and is a regular member of Sean & Dolores Keane's Band. Late 2013 saw the release of David's critically acclaimed first solo album "Changing Time". An album of both new and traditional music including two pieces that were commissioned as part of a documentary on the women of the Magdalene Laundries. One of those pieces, 'A New Dawn' was shortlisted in the top 20 of the John Murray show music competition. Changing Time has been described as "…a fiddle album for the 21st century…" TradConnect "…A stunning debut album…" Sean Laffey The Irish Music Magazine "…an exemplary debut recording…" The Living Tradition "…a classic fiddle album – timeless…" FolkWorld :…Doocey's fiddle tears at the heart strings…" The New Zealand Herald.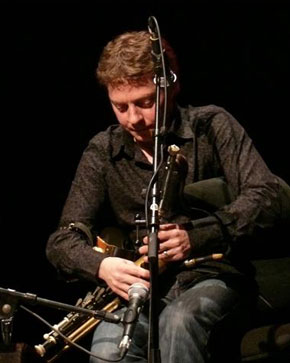 Diarmaid Moynihan
Diarmaid Moynihan is regarded as one of Ireland's most creative uilleann pipers and composers. He was tutored initially by the late Tomás O' Canainn at the Cork School of Music before developing his own very distinctive style. He is a former winner of both the prestigious All-Ireland Fleadh Cheoil and the Oireachtas competitions. Diarmaid has worked with many cutting-edge folk musicians including Donal Lunny, Alain Stivell, Liam O' Maonlaí, Guidewires, John Spillane, British jazz pioneers Carmina and many others.
He has long been admired as one of the most lyrical composers working today in Irish Traditional Music and his pieces have been recorded by some of traditional music's greatest musicians including Lunasa, Flook, Michael McGoldrick and Cherish the Ladies.
He has appeared on many tv and radio shows and has written the theme music for a number of documentaries on TG4. His most recent contributions to the screen have been to provide music for two Des Kilbane productions, An Croí Trodach and Fists of Bronze.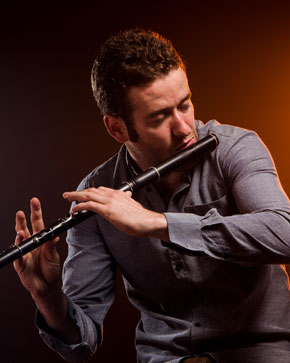 Stephen Doherty
Stephen Doherty hails from Foxford, Co.Mayo in the West of Ireland. Coming from a family steeped in Traditional Irish Music, Stephen accumulated numerous All – Ireland medals throughout his teenage years on various instruments and was awarded All – Ireland champion on Flute and Melodeon.
Stephen progressed as a professional musician to join many well-known Irish groups and shows on tour including: Gráda, Slide, Ragus the Show, TitanicDance, We Banjo 3 and to date has performed in over 25 countries. Stephen has worked as a composer writing music for the acclaimed Irish dance production 'Titanic Dance' which has toured Ireland, America & China and was also commissioned to write music for the CRN Dance Association.
As a recording producer Stephen works from his own studio in Co.Mayo and has featured on over 40 albums to date including recent releases by Nathan Carter & Derek Ryan. In 2017 Stephen recorded and produced the album 'New Day Dawning' for renowned singer Sean Keane. Stephen is in high demand as a teacher across Co.Mayo with many of his students bringing home All – Ireland titles. Currently he continues to tour Ireland and Europe with the group 'Blás' and is also a full-time member of the Sean Keane Band.